Keshii
2022: A Modern, Sustainable Oasis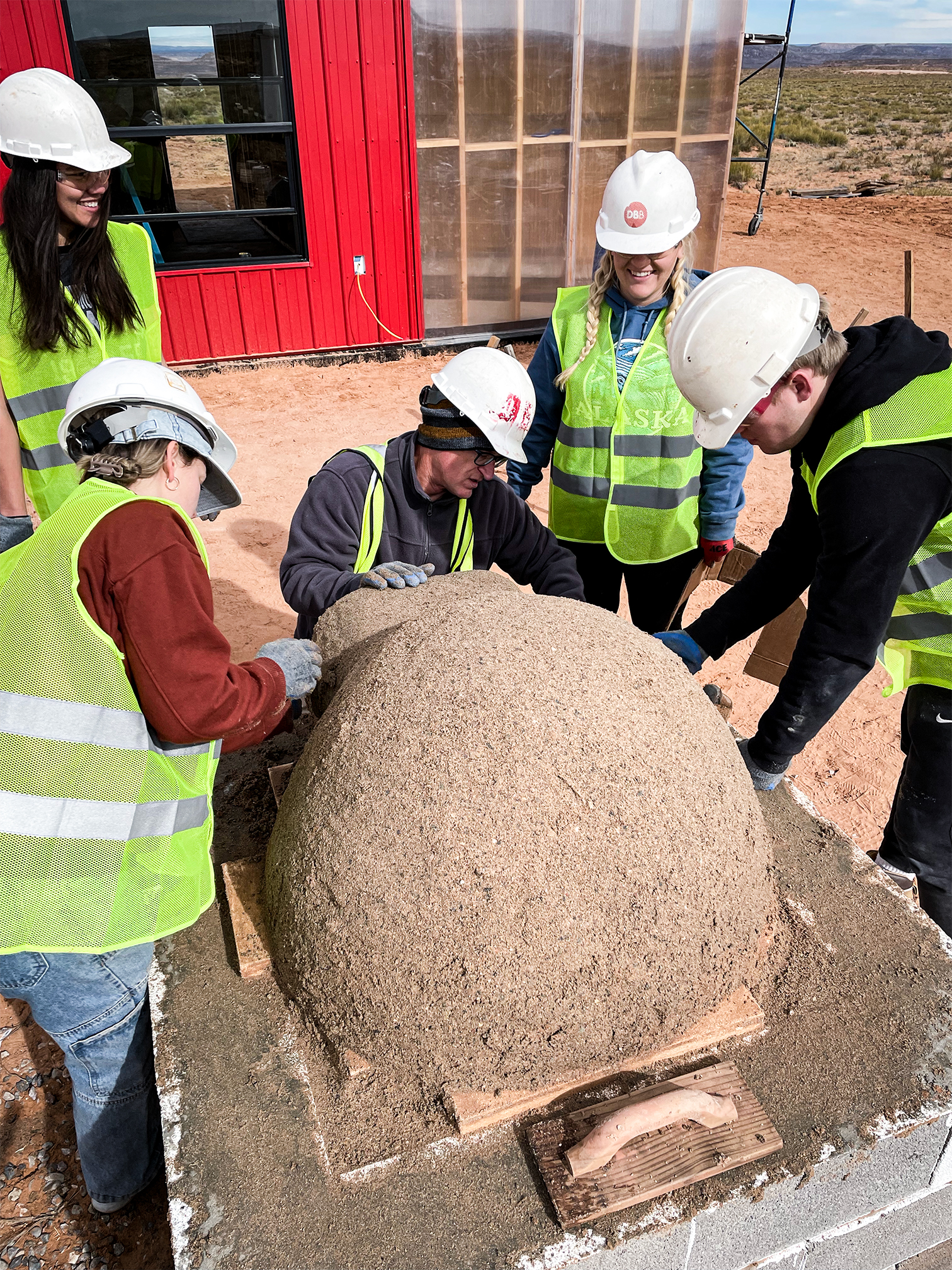 Wind and Sun
With limited square footage and trying to fit in 2 bedrooms we had to be creative with the size, location, and proximity of spaces. We aimed to eliminate corridors and wasted space as much as possible but also to separate the bedrooms for audio comfort. Further, we felt it important to reduce the need for plumbing walls so that it would reduce complications and reduce the need for excess plumbing materials. We chose to have the living spaces be south facing so that the solar heat gain could benefit the maximum square footage we could possibly avoid. We also included a greenhouse on the south east corner of the home to allow for heat capture and a space to grow things that wouldn't be subject to the weather and
external conditions.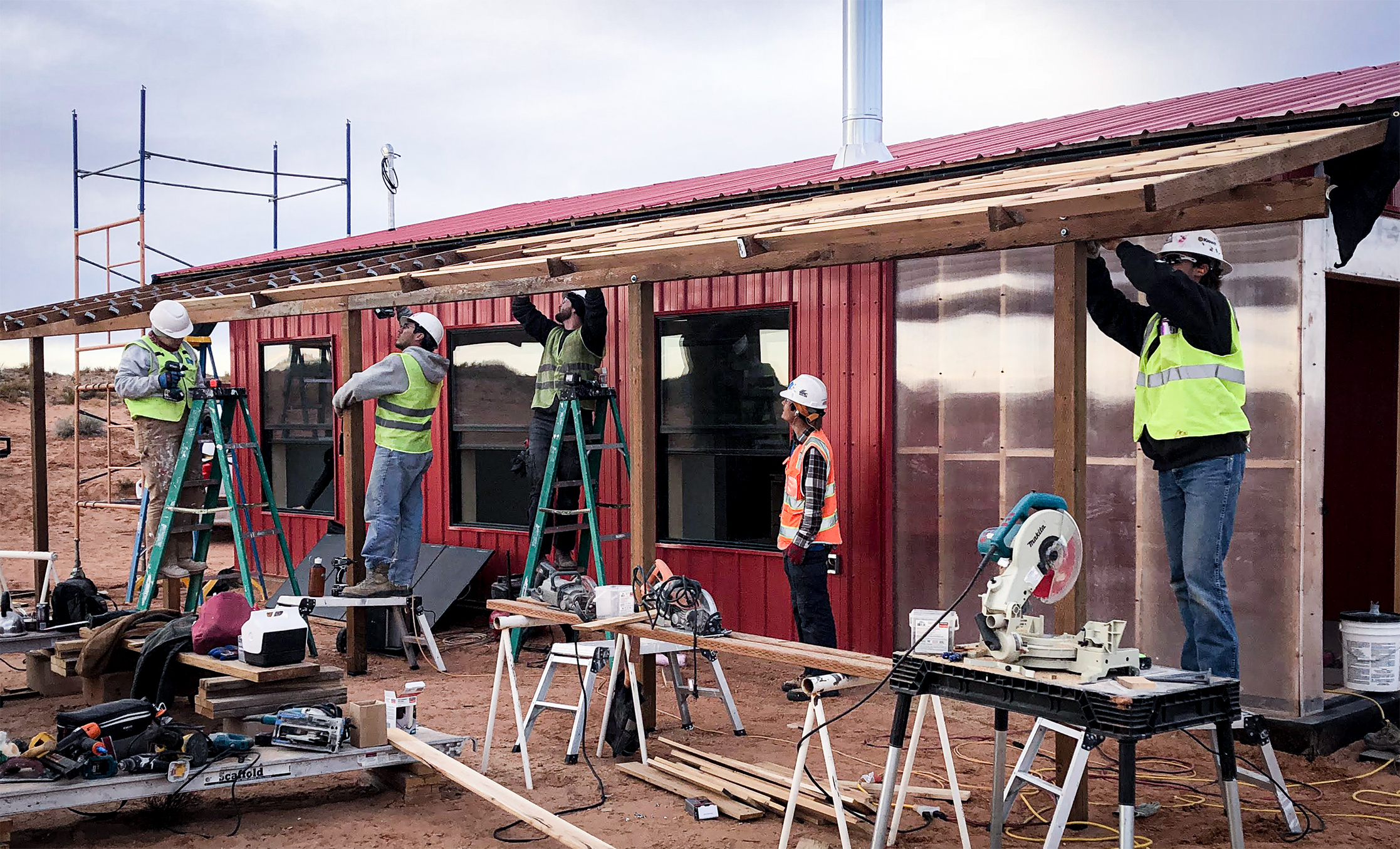 East Orientation
It is traditional in Navajo culture to enter the living space from the east. The front door faces east for this reason. Walking through the front door, one walks through the interior greenhouse, which softens the transition between outside and inside spaces.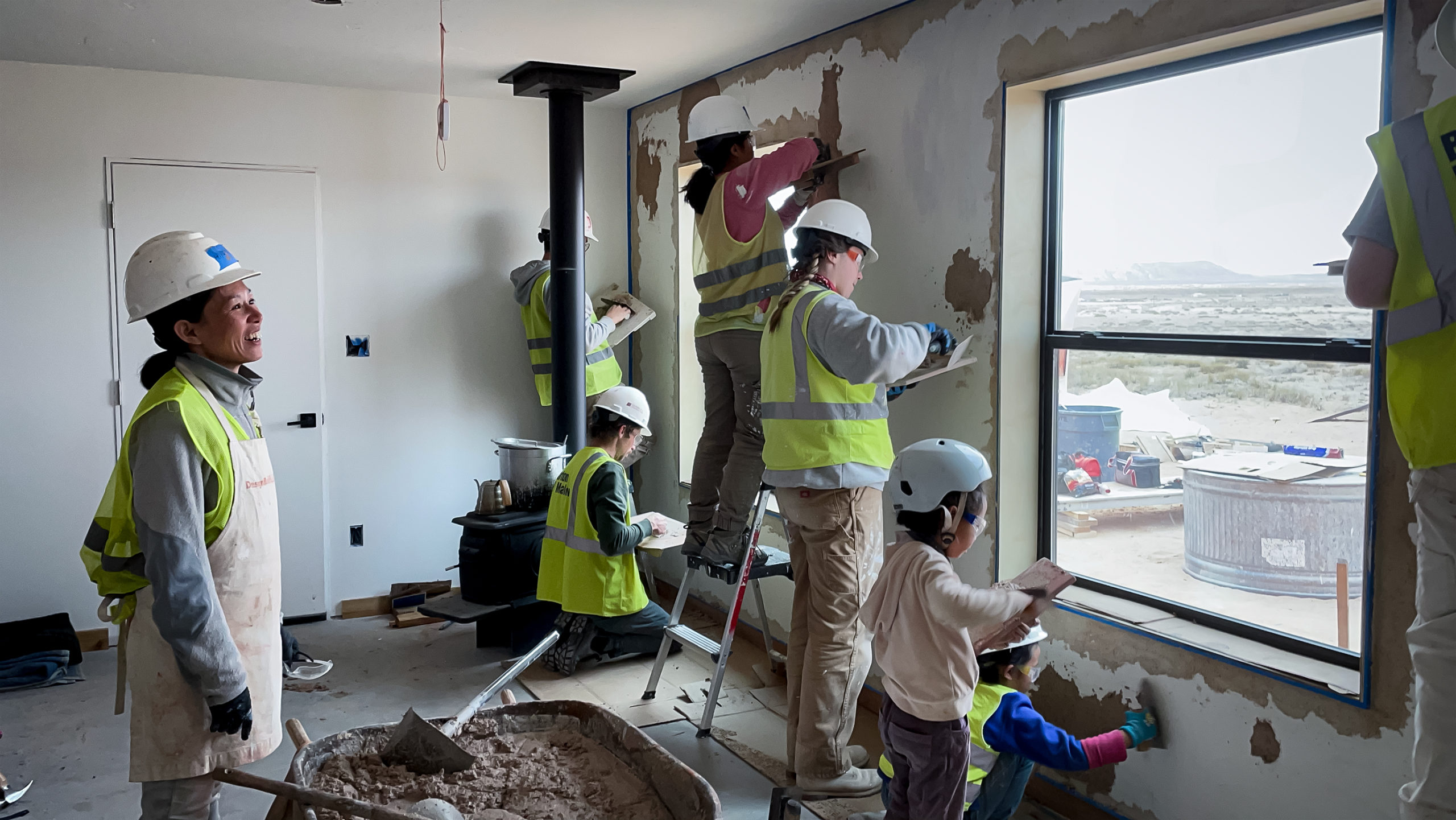 Future Expansion, Sweat Equity
The homeowners will likely expand their house in the future. The compact nature of the plan means that walls can be built and/or fitted out to create new private spaces. From the design term, the students propose future renovation plans which will happen without our support. When homeowners need to expand their homes in the future, they are prepared to do it themselves through our sweat equity model. The homeowner has learned how to build through the construction process. We believe it will be a motivation for their attachment to the space, regular maintenance, too.
Ease to Build
We focused on creating a simple framing method and roof structure. We utilized common building materials, including 2x6 and 2x4 posts and beams for the structure and a mono-truss system for the roof structure. Also, Most of our construction sites are in the middle of nowhere, which can only be accessed by unmaintained dirt roads. We can not use large premixed concrete or heavy-duty machines. As part of our concept of sweat equity, we consider the ease of construction and aim to complete without heavy-duty machines or large deliveries.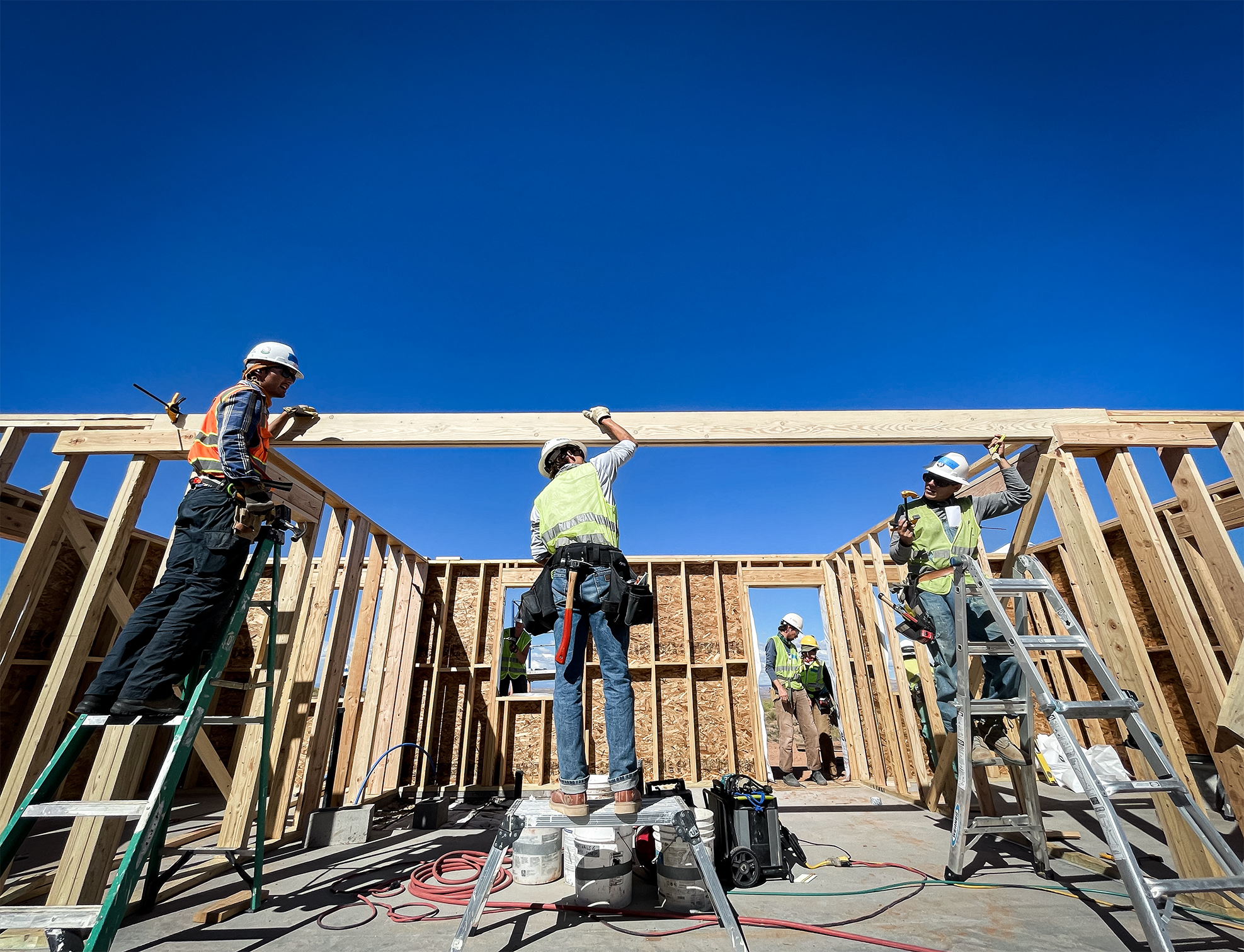 Material
DBU@Bluff respects and is inspired by native and local connections to the natural environment. Through observing the local nature and culture of the Four Corners, inspiration and direction can be found. The design process explores the possibility of local material which is "Earth". The local material is the culture and history of the land itself, and by using it, the pride of the land can be shown.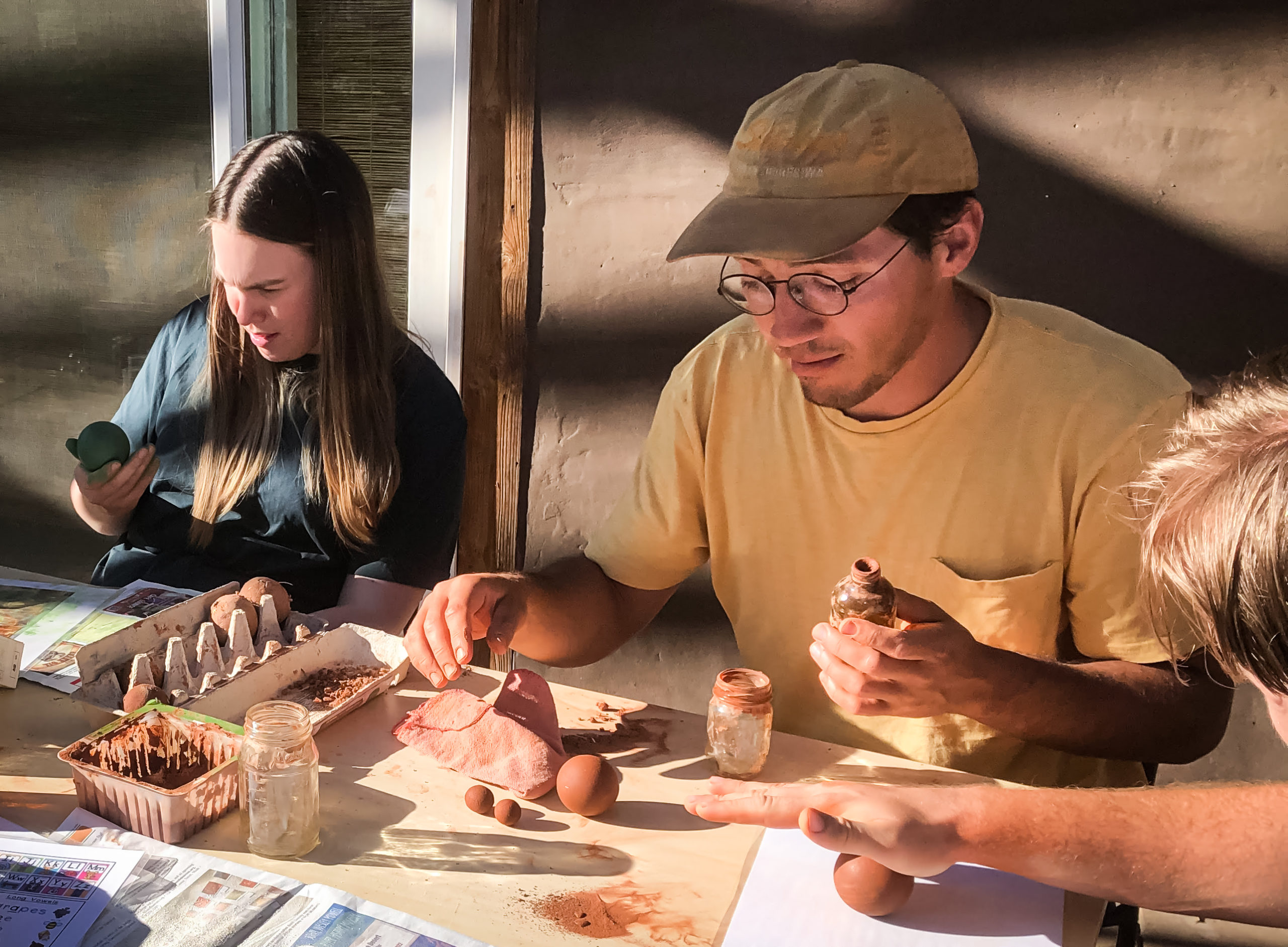 Sustainability
By necessity, DBU@B projects rely heavily on passive strategies to condition homes. Because of the extended timelines associated with connections to water or electrical grids, each home must be designed first, off-grid and later, connectable to the grid. This necessitates careful consideration of factors like passive heating and cooling, natural ventilation, ample natural lighting, and good insulation. The result is a house that can perform at habitable levels year round with minimal use of a wood stove.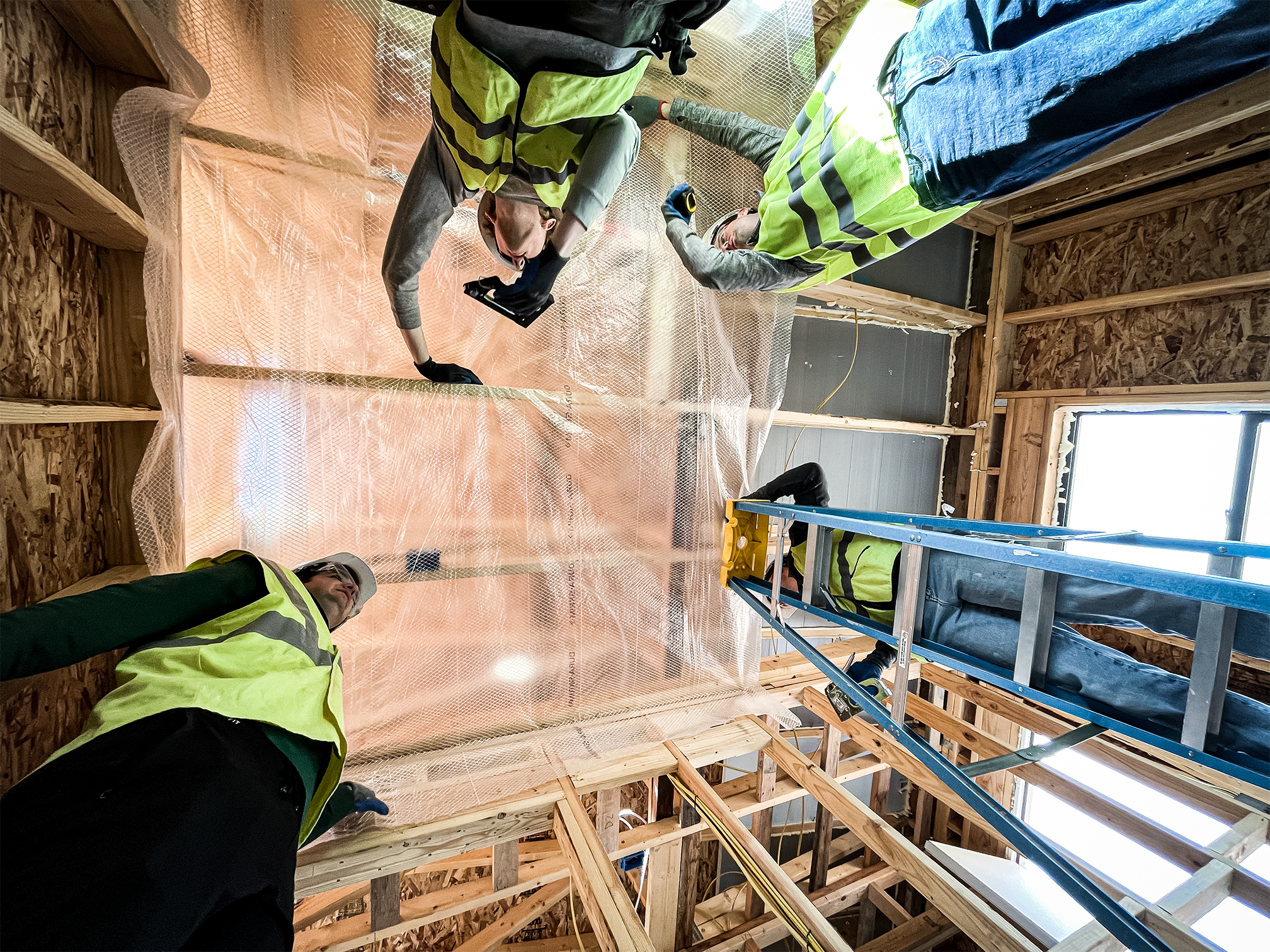 Our donors and volunteers
This home would not have been possible without our generous donors:
Utah Navajo Trust Fund, Navajo Revitalization Fund, AMSCO Windows, Big-D construction, 3form, Wheeler machinery Co., Mountain Fiber Insulation, Arizona Tile, JRC Lighting, National Wood Products, Inc., Wind River Timber Co., Montezuma Orchard Restoration Project, High County garden, Utah Higher Education Americorps Network, River.
We are also very grateful for all the volunteers, some of whom traveled hours to volunteer with us.
Size

792 sq. ft.

Location

Dinétah, Navajo Nation

Year of competion

2022

University of Utah Students

Stallone Cruz, Erik Bailey, Jolie Dunlap, Preeti Gurung, Tom McKean, Jaden Robertson, Maja Tacchi, Samuel Weisenburg.